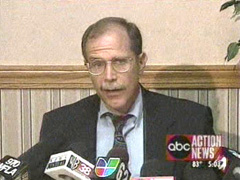 WANTED FOR 1ST DEGREE MURDER, INSURANCE FRAUD, & BRIBERY

The suspect's name is George Felos aka George "Felon" Felos. Last known sighting of the suspect was in Florida. The suspect is to be considered armed with judicial bribes and fraudulent Medicare/Medicaid payments and EXTREMELY dangerous. If you have information that will lead to the arrest of the suspect, contact your local authorities.

Oops! I guess contacting your local authorities won't work. He bought and paid for them too. Oh well.

You've been told and NOW YOU KNOW.